NEVER have to worry about remembering to re-order on time,
NEVER run out of your favourite natural supplement again,
and SAVE 25% on EVERY order
A subscription allows you to choose your preferred frequency in which you want to receive your products - eg monthly, bi-monthly, or even just every 3rd month.
You can select whether you want to receive a reoccuring delivery every month, every 2nd month or every 3rd month.
And you can change products and schedule at any time. Either send us an email or create an account and do it yourself.
We give you all the options to make staying healthy easy and affordable for you!
This way you can continue taking the supporting premium supplements and enjoy the healthy lifestyle you deserve.
We give you 25% off the price when you subscribe and set up a scheduled delivery.
Setting up you subscription is simple and quick:
1. Go to the product page of your favourite product and select your size and quantity.
2. Select "Subscribe & Save" and see the discounted subscription price for you next to it.
3. Select the delivery frequency for your product.
4. Add to cart, then checkout and pay as usual.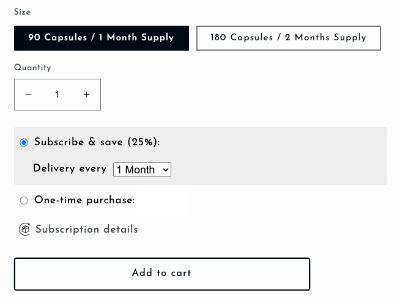 Set up your delivery and save 25% for the products you take on a regular base as they support your health and well-being.
No more need to remember "Oh, I have to reorder..." and no more "Oh no, I forgot and now I am out of my supplements..." - simply set up a scheduled delivery that suits your needs.
You will get your products delivered to your doorstep on time and you can continue benefiting from your healthy supplements.
Live the Healthy Life you deserve!
And YES - you can change or cancel anytime at no fee. We do not lock you into anything as we believe our product quality speaks for itself.
Well done - you all set to never run out of your healthy premium Nutra Nourished supplements!
Set up your frequent delivery of your healthy supplements NOW and SAVE 25% on EVERY delivery!
Never run out - cancel any time at no cost!
Note: Afterpay, Zippay and Paypal are unfortunately not available for subscriptions. This is due to technical limitations out of our hand but due to the software and payment providers. Also our consulting service is excluded from subscriptions.