You are covered by our 30-DAY MONEY-BACK-GUARANTEE
30% OFF ALL STOCK & FREE DETOX EBOOK (Value $49.90) - BUY NOW - WHILE STOCKS LASTS
Regular price
$24.90 AUD
Sale price
$17.43 AUD
Unit price
per
30% Off Sale
Sold out
Pay with Zip – Own it now, pay in 4
30-Day Money Back Guarantee
Shop with confidence! If it is not the right supplement for you simply get your money back within the first 30 days - no questions asked!
Made in Australia
Highest Premium Quality - Made in a certified food facility - for Your peace of mind!
3-5 Day AU & US Delivery
Our priority is to deliver your products to you as quickly as possible. Plus, when you spend over $75, enjoy free shipping on us!
100% Cold Pressed Natural Neem Seed Oil for beautiful skin treatment
Neem seed oil is extracted from the neem tree. Neem oil is used by some traditional Chinese and Ayurvedic medicine practitioners to treat everything from ulcers to fungal infections.
This type of oil contains several compounds that are beneficial to the skin, such as fatty acids and antioxidants. Because no natural compounds are lost during the oil extraction, it is 100 per cent organic cold-pressed neem seed oil. This is a neem oil that can be used for various things.
Neem Seed Oil is a completely natural vegetable oil that is high in Vitamin E, proteins, and other essential amino acids that are beneficial to hair and skin. It also contains natural glycerine, which makes it a great moisturiser, and historical and scientifically valid compounds.
Neem Seed Oil has a long history of use in traditional Ayurvedic herbal recipes. As many people have, you might find it useful in cases of cuts, bruises, nasty insect bites, earaches, scabies, ringworm, fungal problems, and lice.
Neem Seed Oil benefits
contains vitamin E
moisturises and heals
used in Ayurveda traditional medicine for hundreds of years
contains natural organic Sulphur,
proteins,
vitamins,
glycerine
other beneficial Trace Elements.
Key active ingredients are Nimbin and Azadirachtin, two antioxidants that give this oil antiseptic, antiviral, antibacterial, antifungal, anti-inflammatory and antihistamine properties.
Because it contains Vitamin E and other essential amino acids that are great for moisturising the skin, Neem Seed Oil has been used as a 'Traditional Medicine' in Ayurveda for centuries.
Neem seed oil can help with various skin conditions; simply apply a few drops daily to any dry or damaged areas.
Apply a few drops several times a day to bites and scratches such as ant bites, blue bottle stings, and cuts.
Our Neem Seed Oil is certified organic and cold-pressed to preserve all active ingredients and ensure that our products are exactly as nature intended. It's a must-have in every medicine cabinet and especially useful for travellers.
How to use it
SKIN: Arthritis, eczema, and psoriasis can all be relieved by diluting with a carrier oil like coconut or olive oil. Prevents and treats a variety of fungal infections of the skin and nails, as well as brittle nails. Reduces the appearance of age spots. Because of its antibacterial properties, it may help to reduce the severity of sunburn and acne. It's particularly beneficial in hair treatments for dandruff or a dry, itchy scalp. Hair growth may be aided, resulting in strong, shiny, and healthy hair. Due to its insecticidal properties, it can also be a highly effective headlice treatment.
PLANTS: Used as a natural solution to stop various leaf-eating insects like caterpillars, beetles, aphids, and white flies from reproducing, making it a chemical-free alternative with added minerals. Powdery mildew and fungus on plants can also be treated with it.
PETS: Dilute into a spray to use as a deterrent for mosquitos, cockroaches, ants, termites, and bed bugs around the house. To help control mites, ticks, and fleas, spray around your pet's bedding.
It will also help to soothe and heal the inflammation caused by their body rashes and other skin disorders, resulting in a lustrous coat that is free of problems. Simply mix a few drops of Neem oil into your pet's regular shampoo. This remedy may benefit horses, dogs, cats, cattle, and other livestock.
In winter and cooler climates, the seed oil will tend to thicken (the solidification point for Neem Oil is around 14°C) so place it in warm sunlight or in warm water till liquified.
NATURAL PRODUCTS ' are 100% BIODEGRADABLE so leave NO toxic residues in the soil. Perfect for the environment and perfect for you!
Made in Australia
Nutra Nourished Neem Seel Oil is cold-Pressed to contain all-natural compounds. No chemicals, no heating, no additives, no extractions.
Our Neem Seed Oil is of premium quality, just as nature intended it!
Before being inspected for quality control, the raw products are gently harvested and dried naturally.

Directions
DO NOT TAKE ORALLY - ONLY FOR TOPICAL USAGE
Ingredients
Active Ingredients: Neem Seed Oil with key ingredients Nimbin and Azadirachtin,
No Added
Preservatives, artificial colours and artificial flavours
Warnings
Always read the label and follow the directions for use.
Not to be used when child-bearing or breastfeeding
Not to be used in children under the age of 18
false
Share with your friends
View full details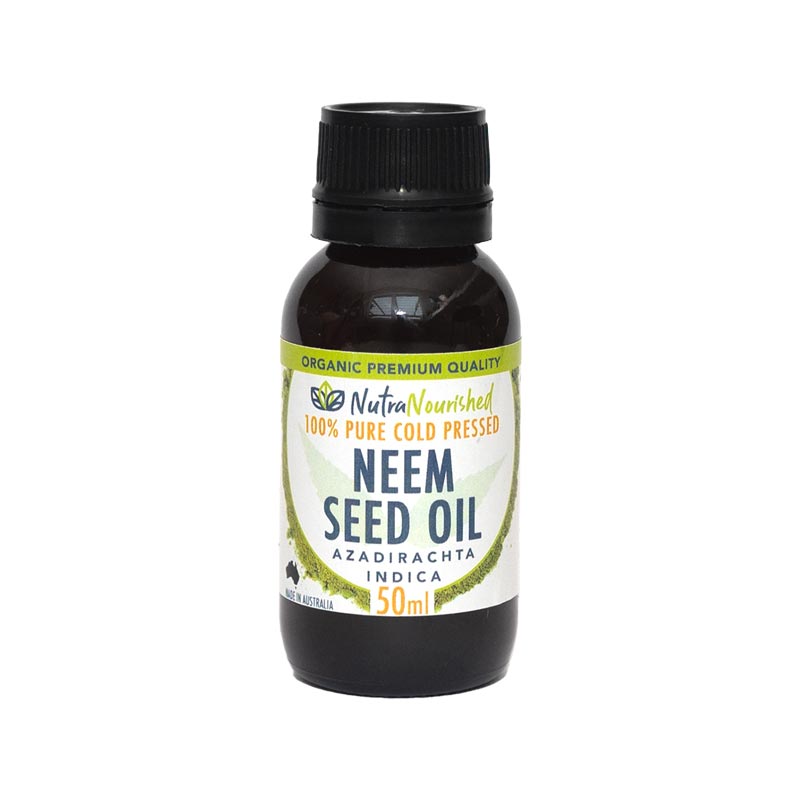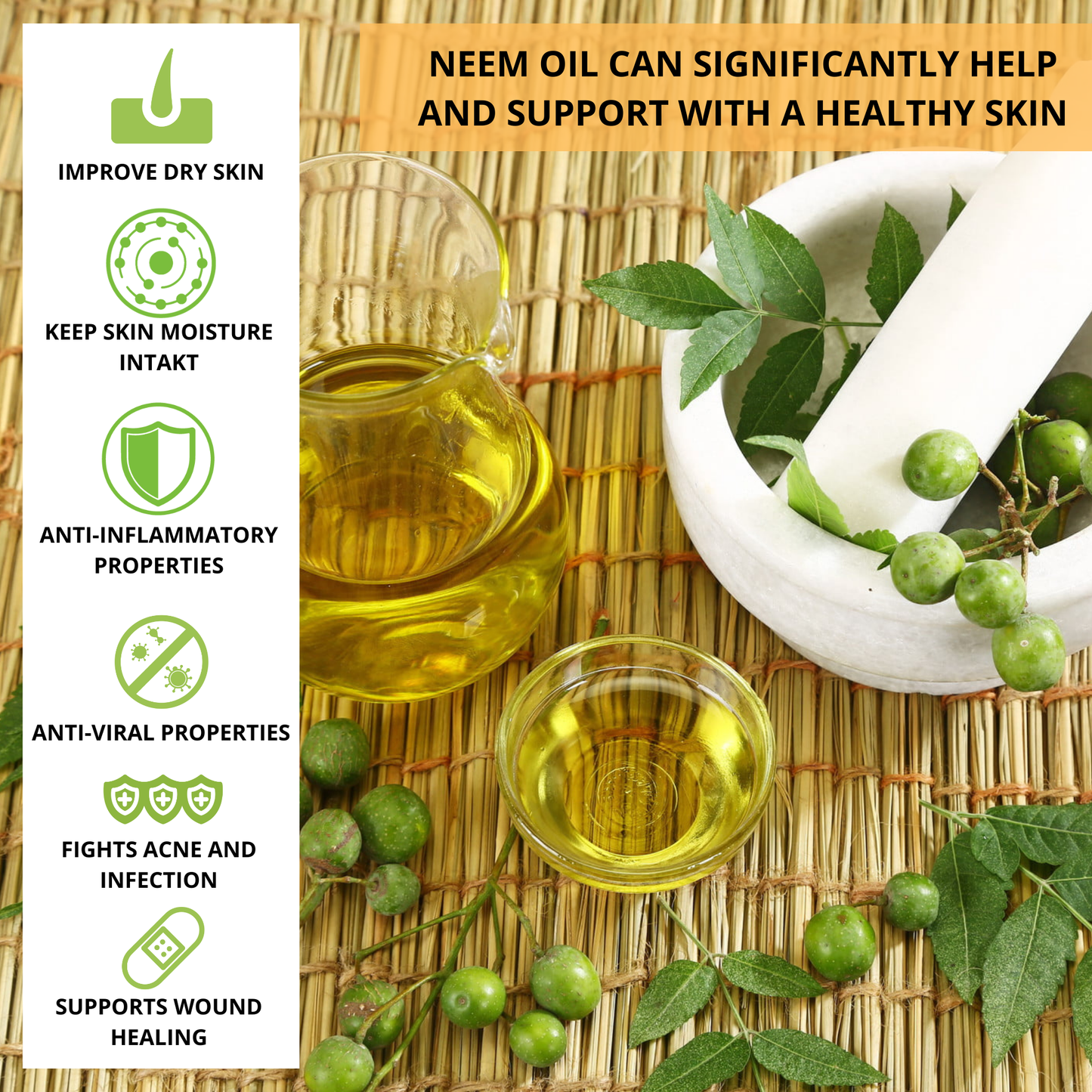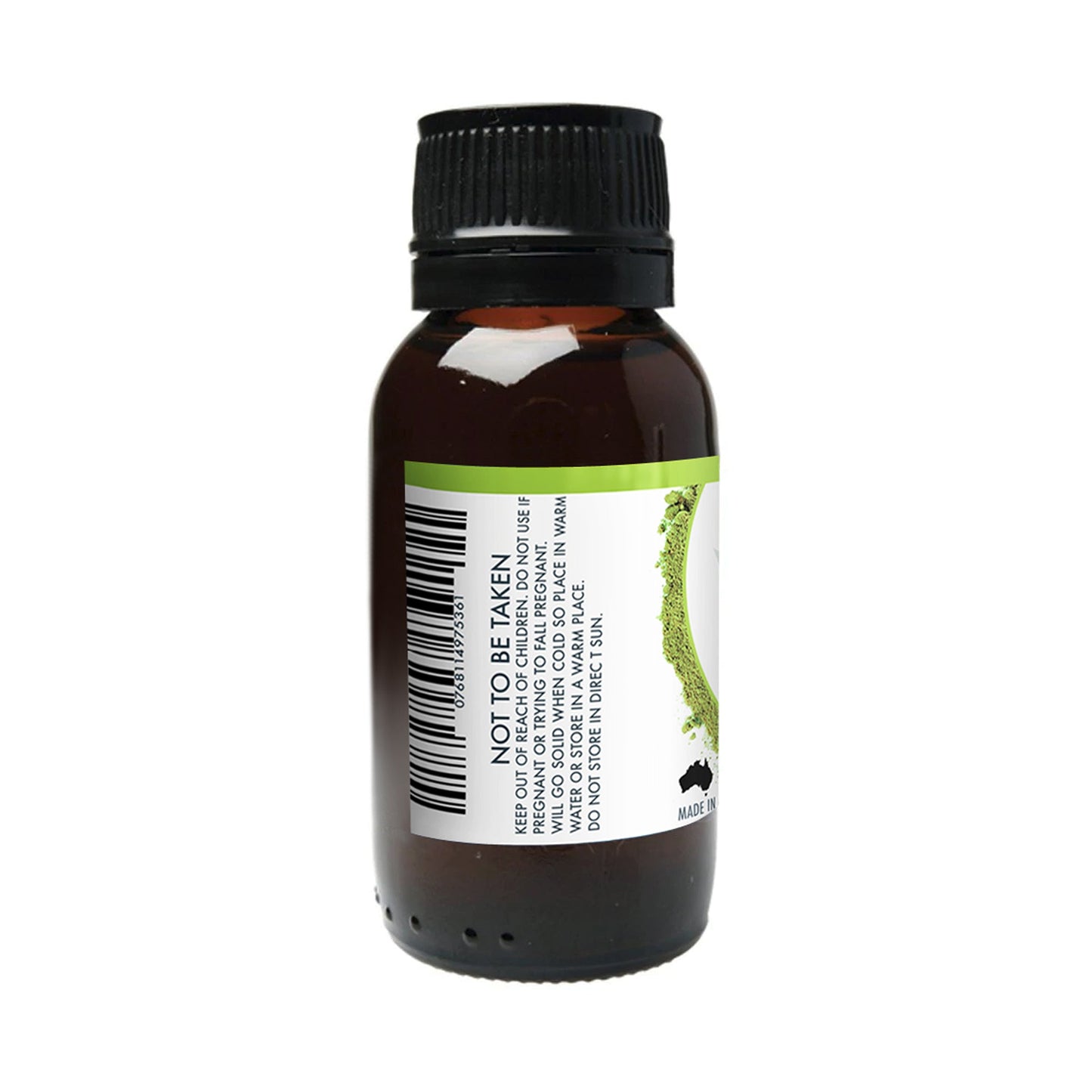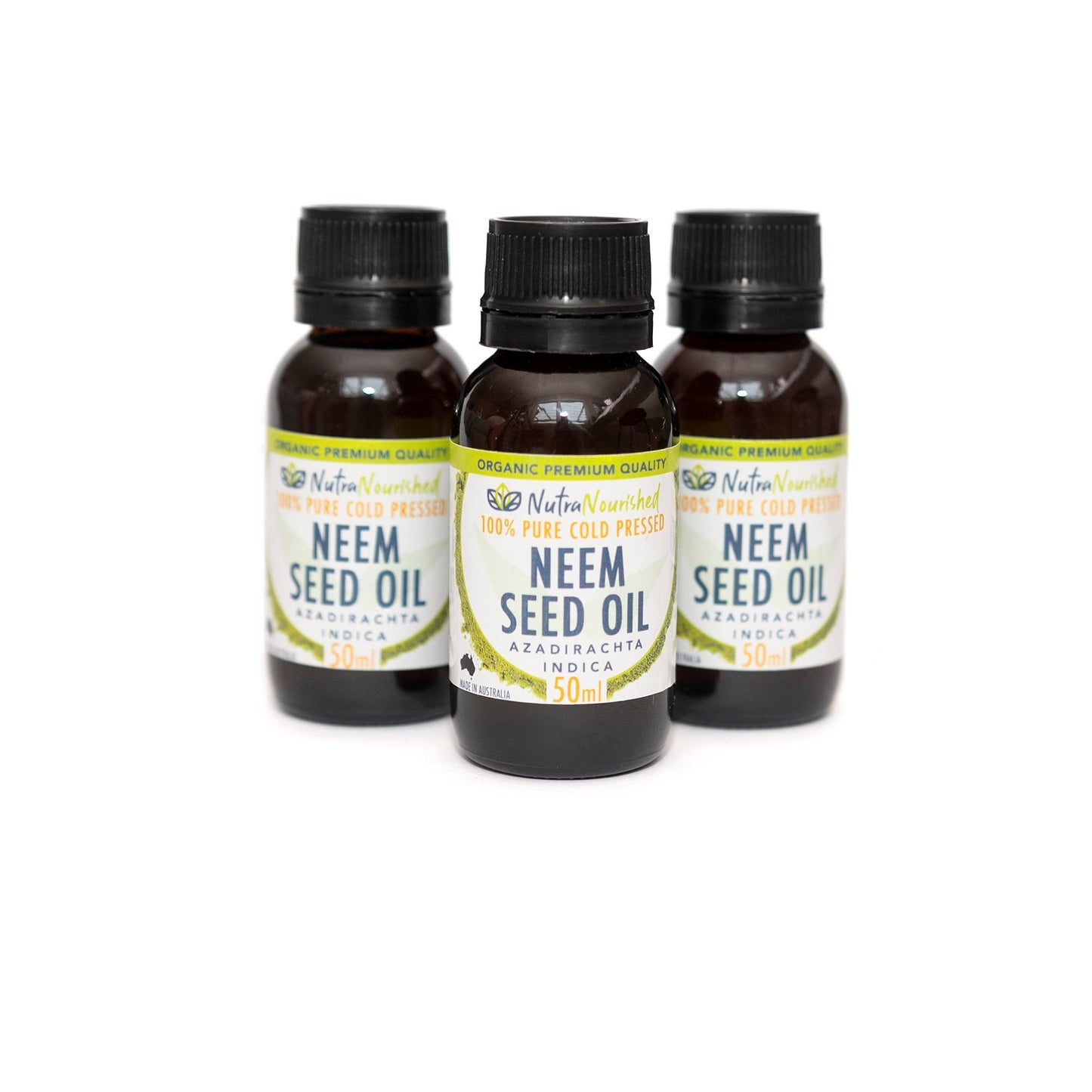 3 Simple Steps
Find the right supplement for You!
DEFINE YOUR GOALS

What benefits are you aiming for and in what areas do you want to improve your health!

SELECT YOUR SUPPLEMENT

Select the supplement that best suits your expectations and is most supportive to achieving your goals and benefits.

BE CONSISTENT

Live the healthy life you deserve - being active and taking your supplements will make a difference!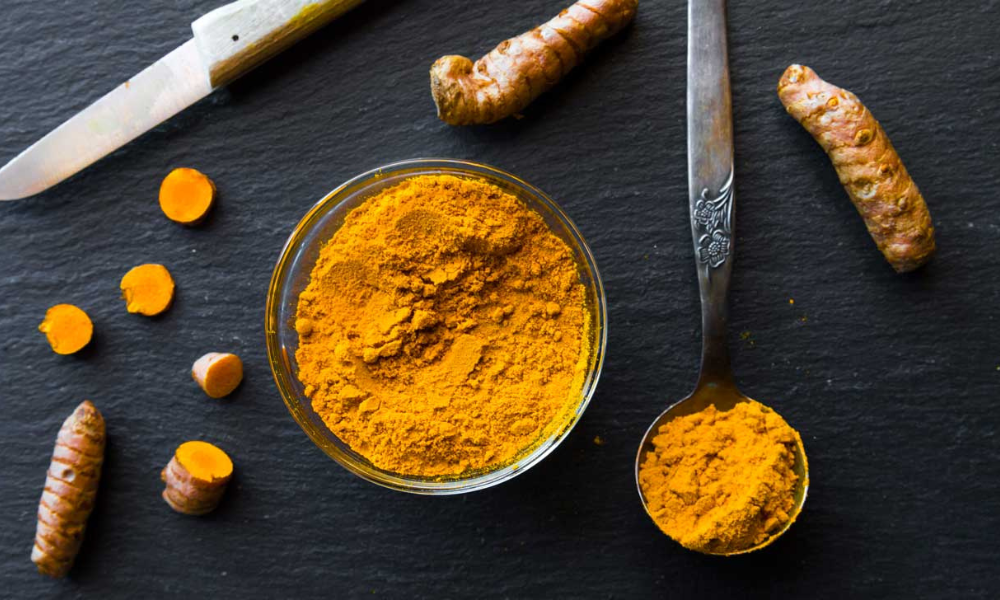 RESPONSIBLY SOURCED
With ethical and climate consciousness being at an all-time high, Nutra Nourished stand for ethical practises and sustainable choices, across the entire production process.
We recognise the challenges associated with providing premium supplement ingredients in a responsible manner. We take pride in working closely with our suppliers to ensure our ingredients are sourced and processed in the most socially responsible way possible, to maintain all the healthy benefits of each ingredient.
Get Mine Now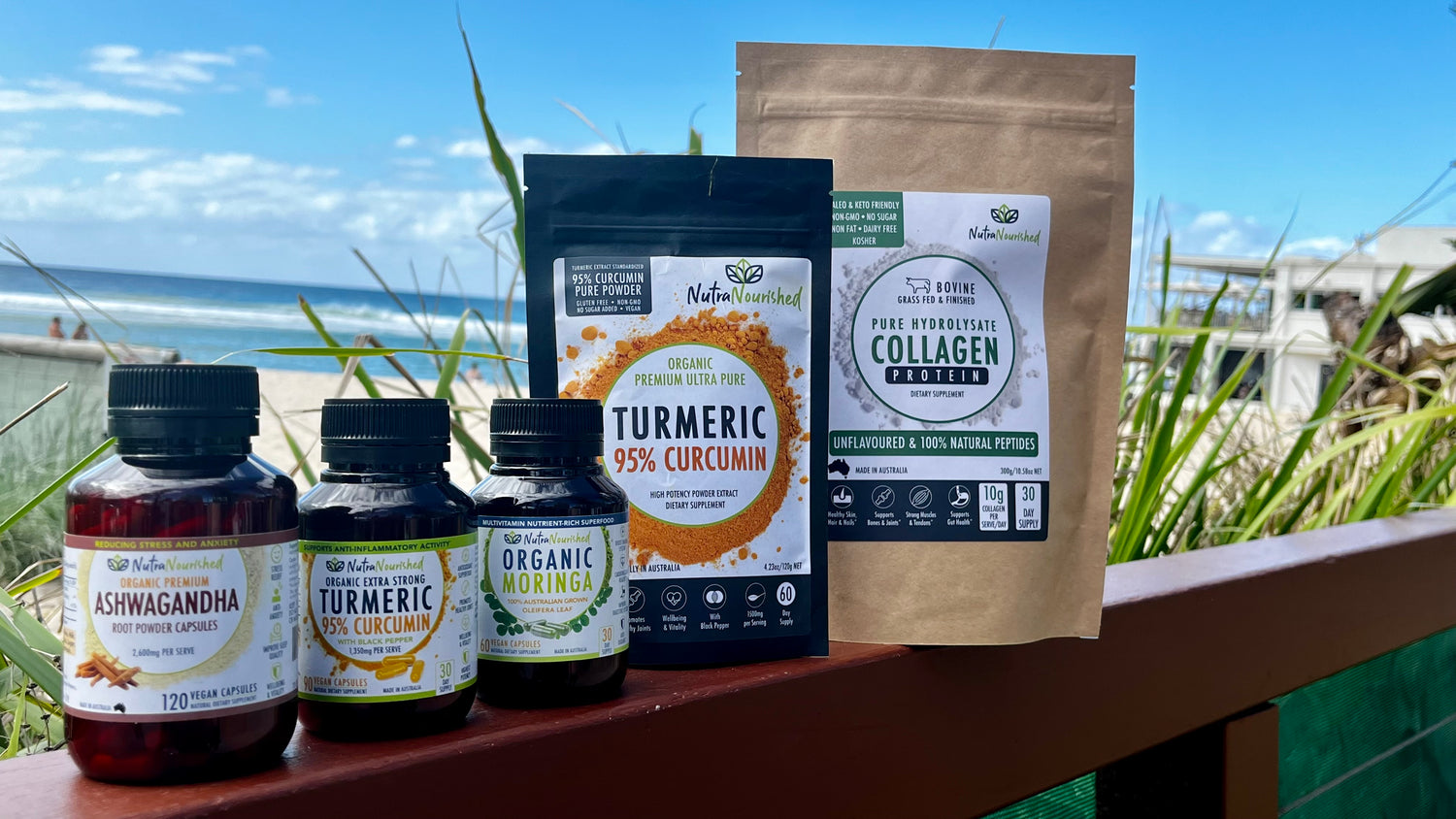 FOCUS ON CUSTOMERS AND SUPPLIERS
Offering customers a high-end premium choice of dietary supplements made in Australia with integrity, is, and always will be a priority.
At Nutra Nourished we take pride in maintaining authentic and loyal relationships with customers, suppliers, and partners, and recognise the challenges associated with providing premium dietary supplements in a responsible manner.
We work closely with our suppliers to ensure all ingredients are sourced and produced in the most ethical way possible.
Get Mine Now
LIVE THE HEALTY LIFE YOU DESERVE
At Nutra Nourished we believe that the right supplements can help you living the healthy life you deserve! This is a daily process, and itvolves more than good supplements but an overall healthy lifestyle.
We do what we can do to provide and support you on your health journey providing you the best quality of premium dietary supplements made in Australia.
Our supplements are made to support you day by day and provide you healthy relevant nutritions, vitamins, and minerals - for you to feel better, stronger, and empowered.
Our supplements are perfect for those looking for premium quality, fair sourcing and certified manufacturing.
Get Mine Now
FIND OUT WHY 5,000+ HAPPY CUSTOMERS RECOMMEND US