⭐ Better skin, hair and nail health
⭐ Healthy bones and joints
⭐ Inflammation and pain reduction
⭐ Exercise and injury recovery
⭐ Protein supplementation
You are covered by our 30-DAY MONEY-BACK-GUARANTEE
30% OFF ALL STOCK & FREE DETOX EBOOK (Value $49.90) - BUY NOW - WHILE STOCKS LASTS
Regular price
£31.00 GBP
Sale price
£20.00 GBP
Unit price
per
30% Off Sale
Sold out
Pay with Zip – Own it now, pay in 4
30-Day Money Back Guarantee
Shop with confidence! If it is not the right supplement for you simply get your money back within the first 30 days - no questions asked!
Made in Australia
Highest Premium Quality - Made in a certified food facility - for Your peace of mind!
3-5 Day AU & US Delivery
Our priority is to deliver your products to you as quickly as possible. Plus, when you spend over $75, enjoy free shipping on us!
Collagen Powder Tasteless & Unflavoured
(Bovine Hydrolysate Peptides)
Grass Fed And Finished Premium Collagen Protein Supplement Containing 100% Natural, Unblended And Unflavoured Hydrolysed Collagen Peptides Powder
Nutra Nourished Collagen Hydrolysate powder contains smaller pre-digested peptides compared to those found in other proteins, allowing them to be absorbed by the body more rapidly than intact proteins, thus maximising nutrient delivery to cells. This greater bio-availability makes Nutra Nourished Collagen Hydrolysate powder ideal when used for health and beauty nutrition.
OurNutra Nourished Collagen Hydrolysate is:
Gluten-free
Keto and paleo friendly
Grass fed and finished 
Glyphosate free
Kosher Certified
Health Benefits
Skin, hair and nail health
Exercise and injury recovery
Inflammation and pain reduction
Healthy bones and joints
Protein supplementation
For some people, traditional whey-and plant-based protein powders can cause digestive issues, such as bloating, gas, and stomach cramps. This could be due to the microbial fermentation that occurs in our guts during digestion, which seems to especially affect individuals with dairy sensitivity or intolerance. Nutra Nourished collagen protein powder does not cause gastrointestinal discomfort like this, and since ours is already hydrolysed, your body can digest the collagen and make use of its benefits quickly and easily.
Our Bovine collagen is rich in Types I and III collagen, and most closely resembles the collagen that's present in the human body. The bovine collagen that we use in our collagen peptide powders is sustainably sourced, and is free from hormones and GMOs.
Ingredients: Premium unblended bovine collagen hydrolysate protein powder
Directions: Combine 1 tablespoon (10g) of dry powder into a smoothie or add
to shaker with your favourite cold beverage and mix thoroughly until dissolved.
Let stand for 30 seconds and enjoy. Can be added to hot beverages. Take up to
twice per day.
Storage information: Do not refrigerate. Indefinite shelf life when stored dry.
 Country of Origin:
There is currently no collagen hydrolysate powder manufactured in Australia. The only country where we could find a suitable grass-fed product is in Brazil. All other Countries we investigated were unable to separate the source material and appeared to have a blended variety of grass and grain-fed product. No added hormones are fed to cattle ensuring the highest quality of natural sourced collagen.
Nutra Nourished Collagen Powder is packaged in Australia in a certified food facility.
Share with your friends
View full details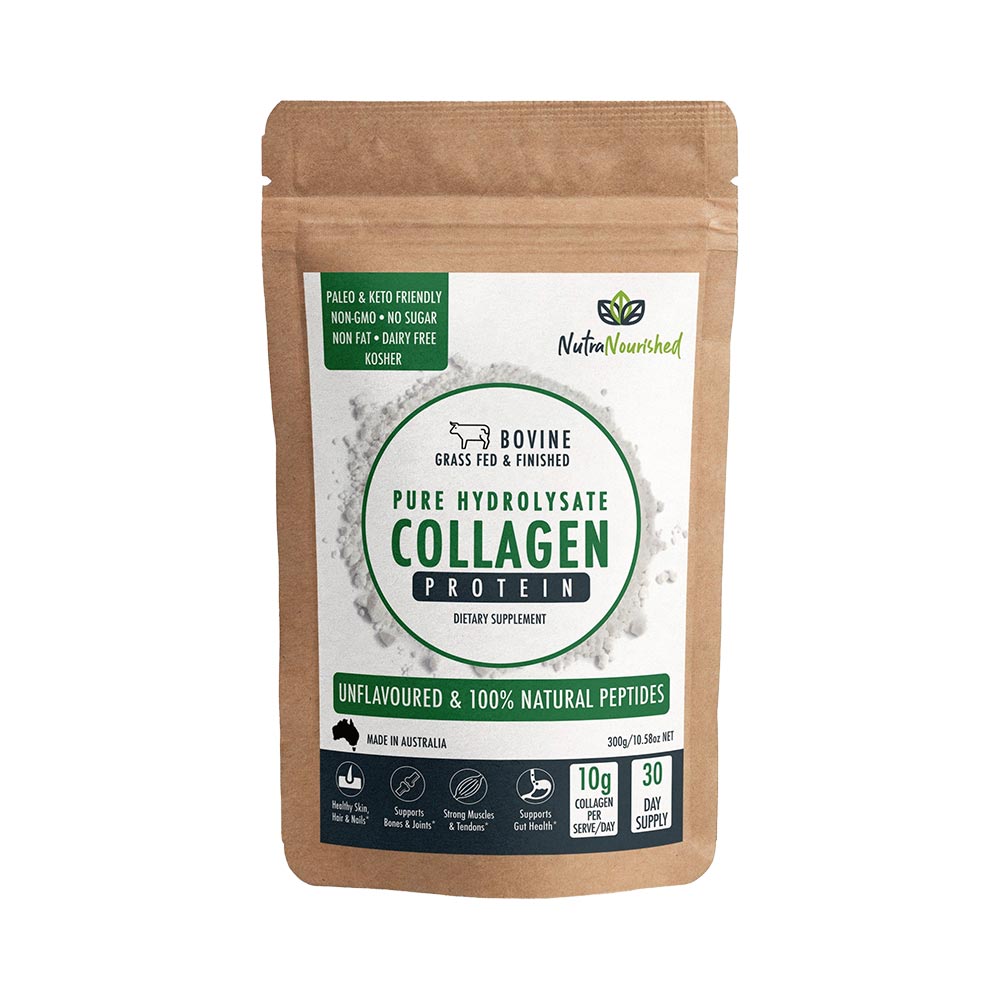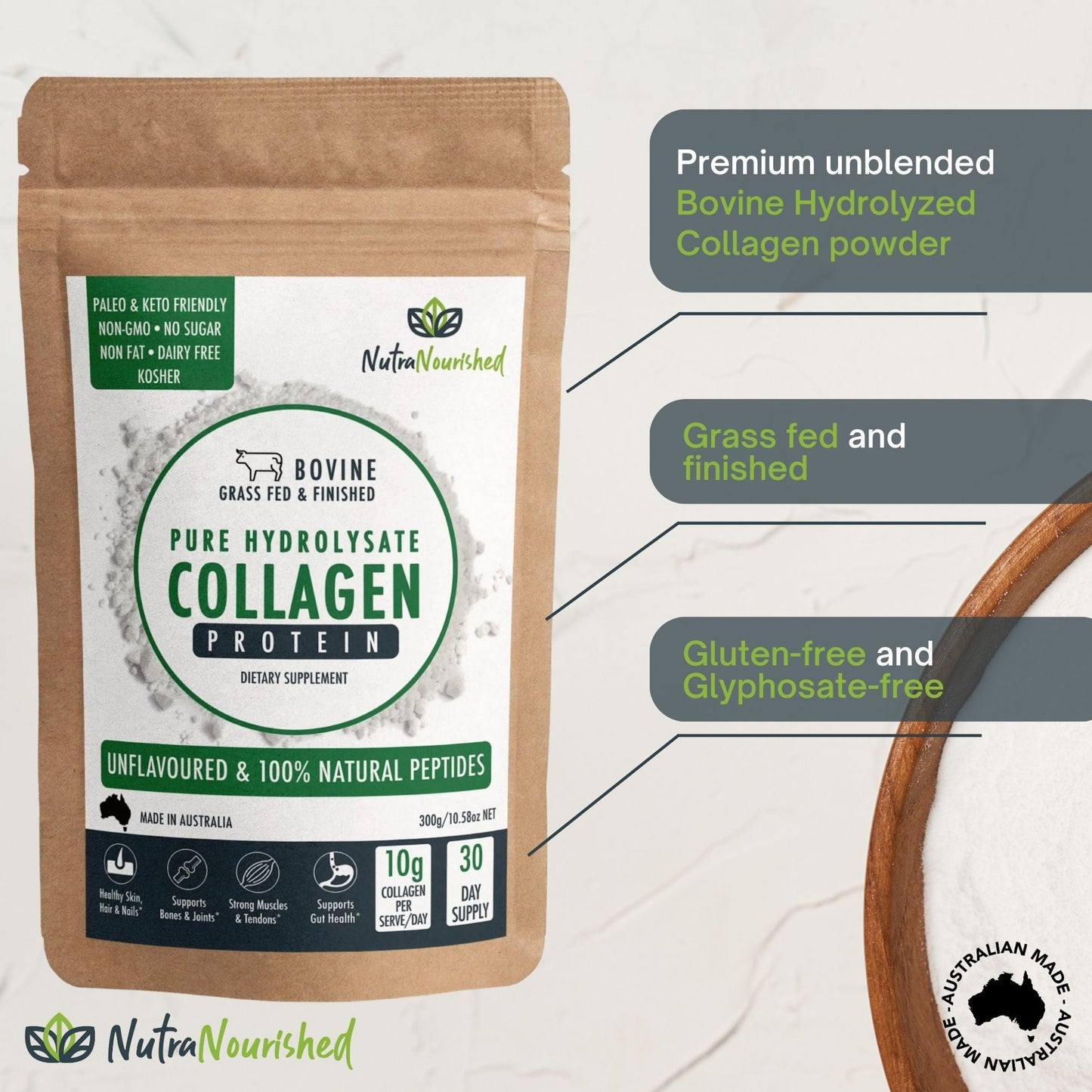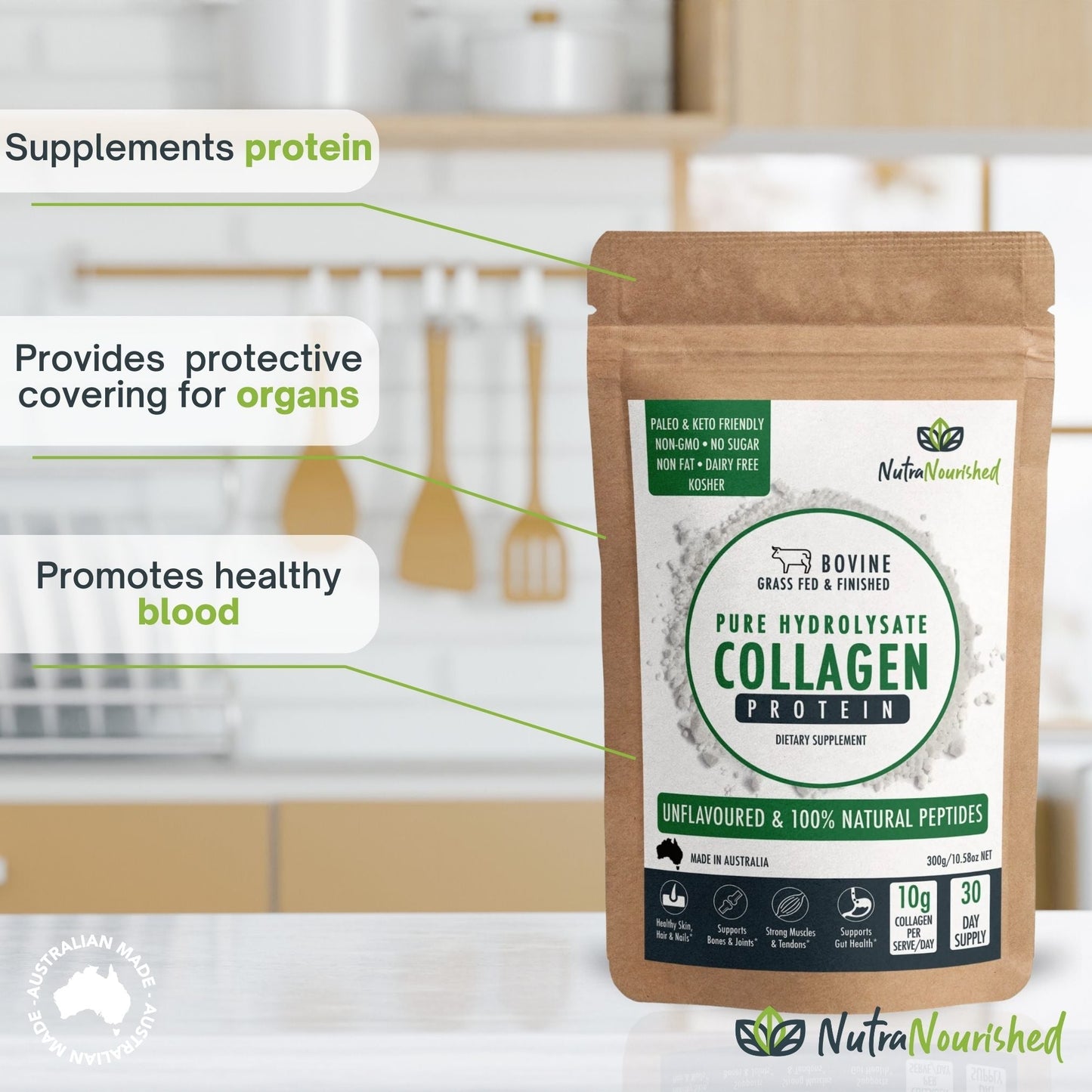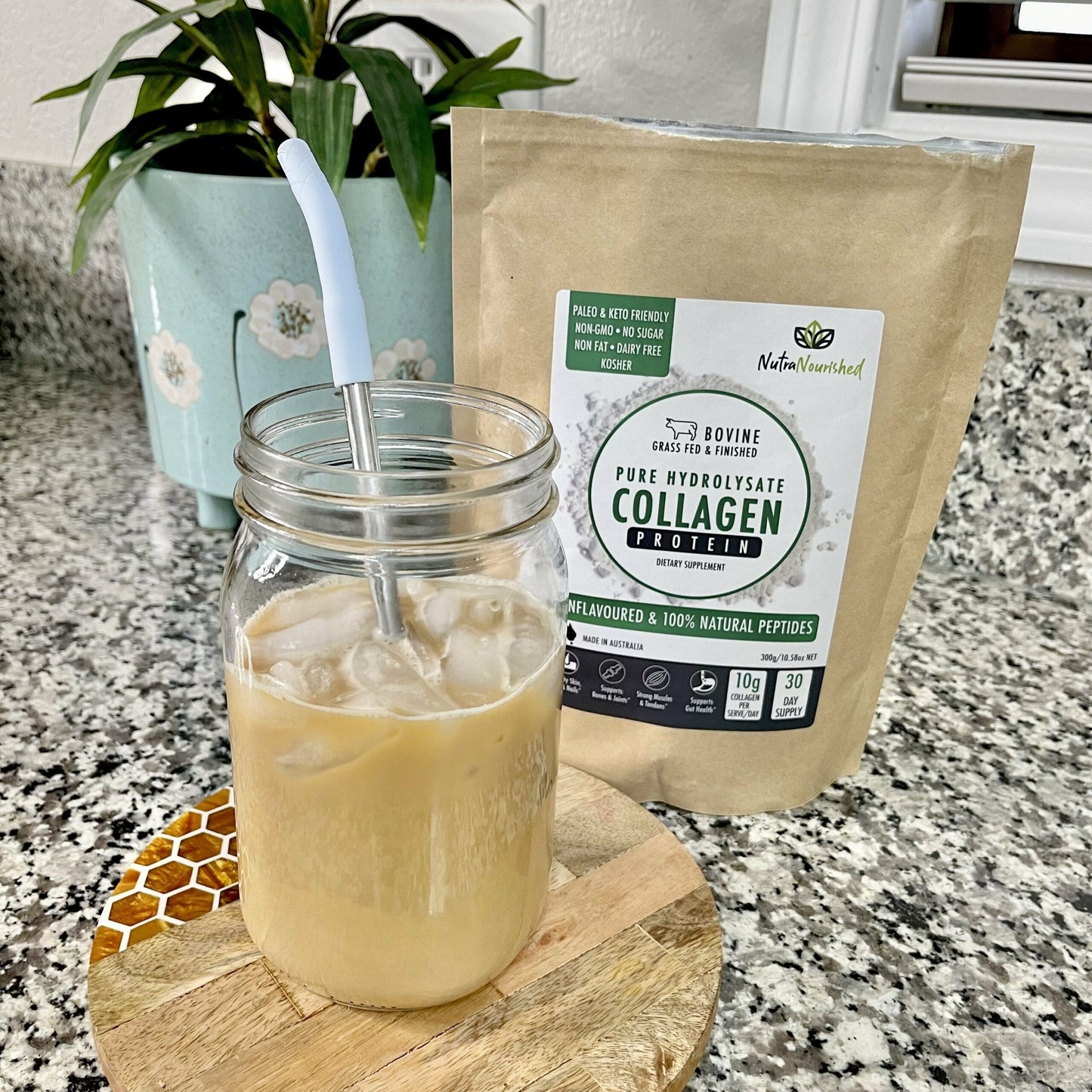 3 Simple Steps
Find the right supplement for You!
DEFINE YOUR GOALS

What benefits are you aiming for and in what areas do you want to improve your health!

SELECT YOUR SUPPLEMENT

Select the supplement that best suits your expectations and is most supportive to achieving your goals and benefits.

BE CONSISTENT

Live the healthy life you deserve - being active and taking your supplements will make a difference!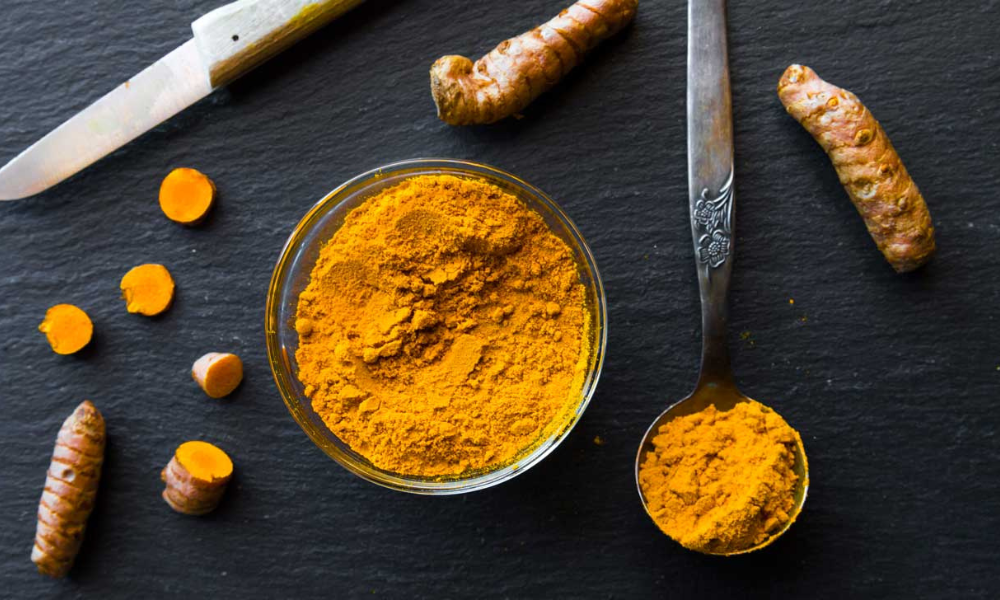 RESPONSIBLY SOURCED
With ethical and climate consciousness being at an all-time high, Nutra Nourished stand for ethical practises and sustainable choices, across the entire production process.
We recognise the challenges associated with providing premium supplement ingredients in a responsible manner. We take pride in working closely with our suppliers to ensure our ingredients are sourced and processed in the most socially responsible way possible, to maintain all the healthy benefits of each ingredient.
Get Mine Now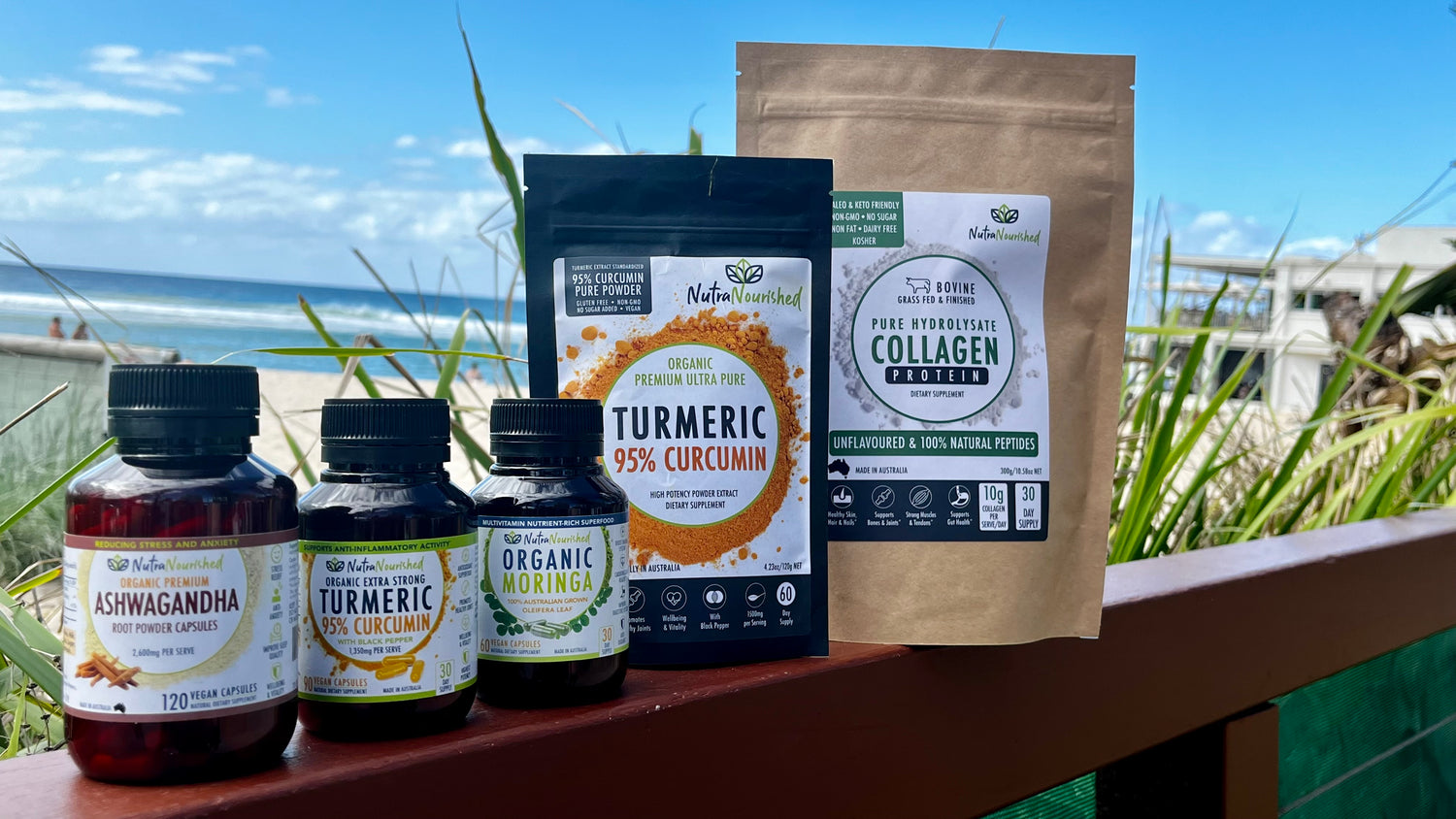 FOCUS ON CUSTOMERS AND SUPPLIERS
Offering customers a high-end premium choice of dietary supplements made in Australia with integrity, is, and always will be a priority.
At Nutra Nourished we take pride in maintaining authentic and loyal relationships with customers, suppliers, and partners, and recognise the challenges associated with providing premium dietary supplements in a responsible manner.
We work closely with our suppliers to ensure all ingredients are sourced and produced in the most ethical way possible.
Get Mine Now
LIVE THE HEALTY LIFE YOU DESERVE
At Nutra Nourished we believe that the right supplements can help you living the healthy life you deserve! This is a daily process, and itvolves more than good supplements but an overall healthy lifestyle.
We do what we can do to provide and support you on your health journey providing you the best quality of premium dietary supplements made in Australia.
Our supplements are made to support you day by day and provide you healthy relevant nutritions, vitamins, and minerals - for you to feel better, stronger, and empowered.
Our supplements are perfect for those looking for premium quality, fair sourcing and certified manufacturing.
Get Mine Now
FIND OUT WHY 5,000+ HAPPY CUSTOMERS RECOMMEND US