⭐ Boost the immune system
⭐ Support the metabolism and the cell structure
⭐ Strengthen the cardiovascular system
⭐ Detoxify the body
⭐ Promote proper digestion
You are covered by our 30-DAY MONEY-BACK-GUARANTEE
30% OFF ALL STOCK & FREE DETOX EBOOK (Value $49.90) - BUY NOW - WHILE STOCKS LASTS
Regular price
£35.00 GBP
Sale price
£25.00 GBP
Unit price
per
30% Off Sale
Sold out
Pay with Zip – Own it now, pay in 4
30-Day Money Back Guarantee
Shop with confidence! If it is not the right supplement for you simply get your money back within the first 30 days - no questions asked!
Made in Australia
Highest Premium Quality - Made in a certified food facility - for Your peace of mind!
3-5 Day AU & US Delivery
Our priority is to deliver your products to you as quickly as possible. Plus, when you spend over $75, enjoy free shipping on us!
Organic Moringa Leaf Powder
100% pure organic Moringa leaf powder: No fillers of any kind! Our plants have no chemical additives, such as pesticides. It is a 100% natural product. There are no known side effects of Moringa powder.
MORINGA BENEFITS
Boost your immune system,
Support the metabolism and the cell structure of the body.
Strengthen the cardiovascular system,
Detoxify the body of toxins
Promote proper digestion and the normal function of the liver and the kidneys
supports normal blood sugar levels in the body
Promote a better sleep and give a feeling of general well-being
support the body's anti-inflammatory mechanisms, have a positive effect on healthy weight loss and rejuvenate energy and vitality.
detoxifying
Provides Antioxidants and Anti-Inflammatory Compounds
Balances Hormones and Slows the Effects of Aging
Helps Improve Digestive Health
Balances Blood Sugar Levels, Helping Fight Diabetes
Protects and Nourishes the Skin
Helps Stabilize Your Mood and Protects Brain Health
Moringa leaf powder contains 13 different vitamins, minerals, and about 20 types of amino acids by nature.
Vitamins: Vitamin A (Alpha & beta carotene), vitamin B (choline), vitamin B1 (thiamin), vitamin B2 (riboflavin), vitamin B3 (niacin), vitamin B6 (Pyrodixine), vitamin B7 (biotin), vitamin B9 (folate), vitamin B12 (cyanocobalamin), vitamin C (Ascorbic acid), vitamin D (Cholecalciferol), vitamin E (tocopherol), vitamin K.
Minerals: Iron, calcium, copper, magnesium, manganese, phosphorus, potassium, selenium, sulphur, zinc
Essential amino acids: Histidine, Isoleucine, Leucine, lysine, methionine, phenylalanine, threonine, tryptophan, Valine
Traditionally used take 1-2g of Moringa powder per day to provide the body with all essential vitamins and minerals.
Over 1,300 studies, articles and reports have focused on moringa benefits and this plant's healing abilities that are important in parts of the world that are especially susceptible to disease outbreak and nutritional deficiencies. Research shows that just about every part of the moringa plant can be utilized in some way, whether it's to make a potent antioxidant tea or produce an oily substance that lubricates and nourishes the skin. Throughout the world, moringa is used for treating such widespread conditions as:
inflammation-related diseases
cancer
diabetes
anemia
arthritis and other joint pain, such as rheumatism
allergies and asthma
constipation, stomach pains and and diarrhea
epilepsy
stomach and intestinal ulcers or spasms
chronic headaches
heart problems, including high blood pressure
kidney stones
fluid retention
thyroid disorders
low sex drive
bacterial, fungal, viral and parasitic infections
Moringa is an excellent source of protein, vitamin A, potassium, calcium and vitamin C. Just how strong is moringa? According to Kuli Kuli, an organization that harvests moringa plants in Africa and makes them accessible to customers in the the U.S. and other western nations, gram for gram, moringa contains:
two times the amount of protein of yogurt
four times the amount of vitamin A as carrots
three times the amount of potassium as bananas
four times the amount of calcium as cows' milk
seven times the amount of vitamin C as oranges
CUSTOMER FEEDBACK
Watch what our customer Alisha has to say about Moringa - and how it helps her with her mood and hair - watch 2:52 and you will be surprised.
MADE IN AUSTRALIA
Nutra Nourished Organic Moringa Leaf Powder is made in Australia with naturally dried Moringa Leaf Powder.
Directions
For general well-being the general recommendation for adults is to take the suggested dosage of 2g per day.
Nutra NourishedMoringa Powder is 100% Pure Organic.
Ingredients

Each bag contains 100% Natural Organic Moringa Leaf Powder.
Free From

sugar, dairy, lactose, gluten, wheat, yeast, starch, soy, nuts, animal products.
No Added

Preservatives, artificial colours and artificial flavours
Warnings

Always read the label and follow the directions for use.

Always consult with your Health Professional before taking this Herbal Food.

Not to be taken when child-bearing or breastfeeding

Not to be used in children under the age of 18

This Herbal Food does not replace a Balanced Diet.

Always read the label & follow the directions for use. This food is not a sole source of nutrition and should be consumed in conjunction with a nutritious diet. Avoid this product if you are allergic or sensitive to any of the ingredients. 
VITAMIN AND DIETARY SUPPLEMENTS SHOULD NOT REPLACE A BALANCED DIET.
Our Premium Dietary Supplements are not a substitute for good nutrition or a balanced diet. They are not in any way superior to or more beneficial than dietary nutrients.
false
Share with your friends
View full details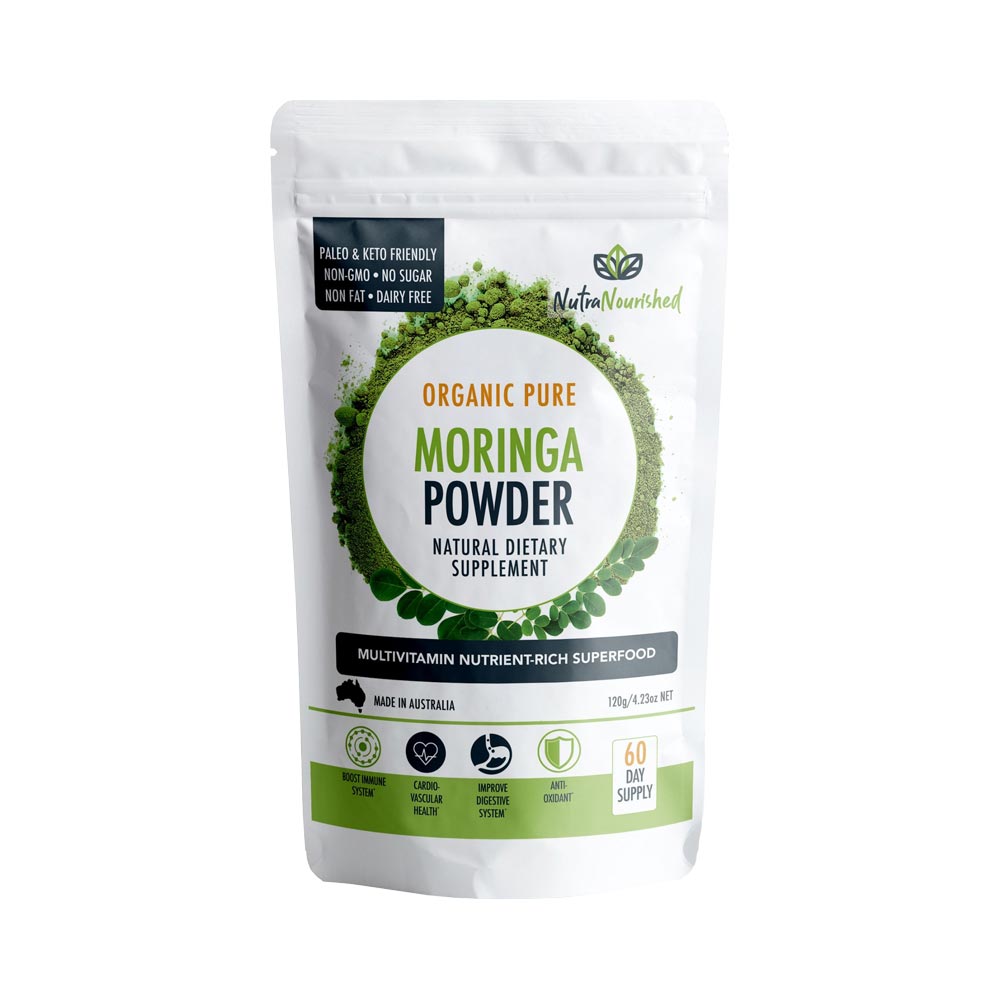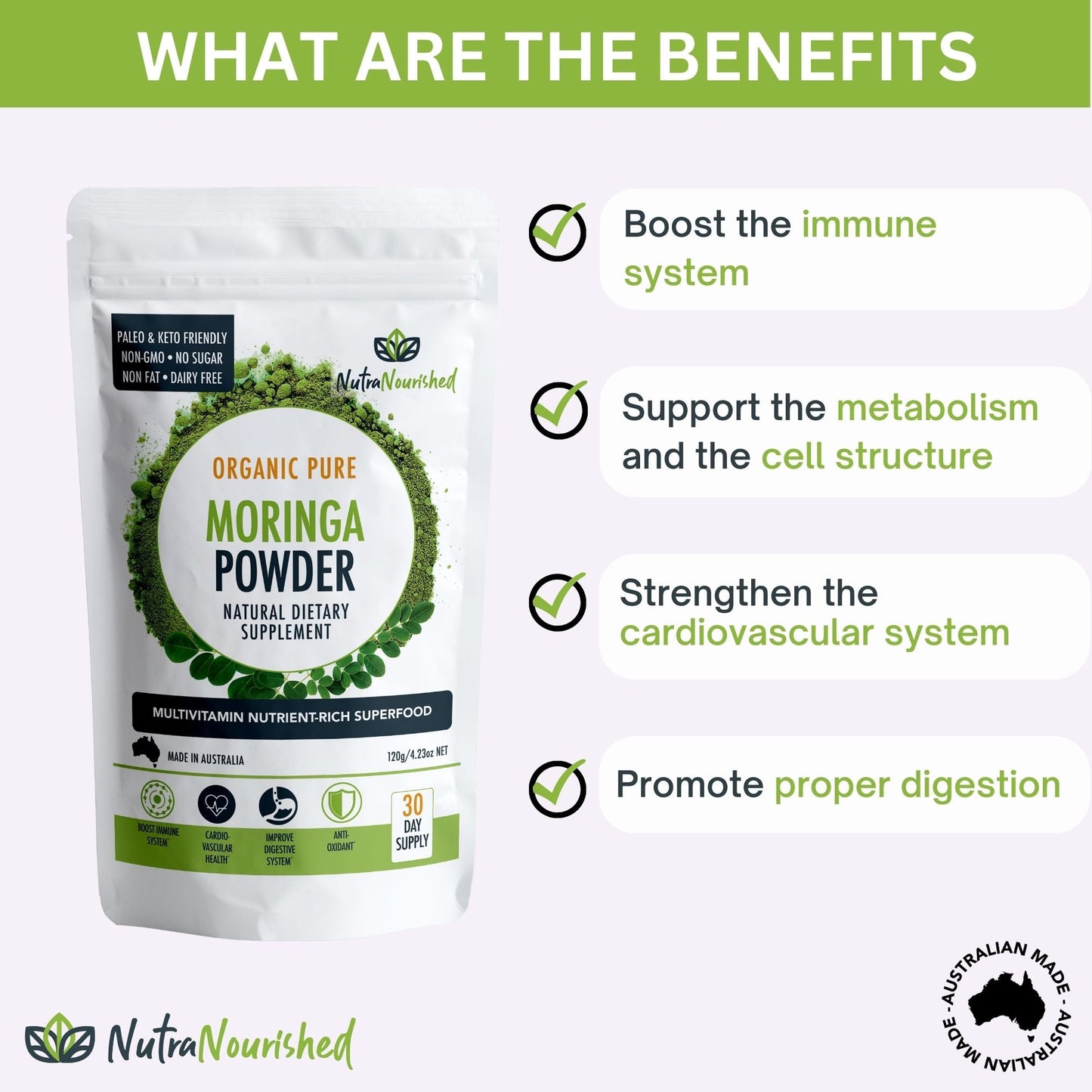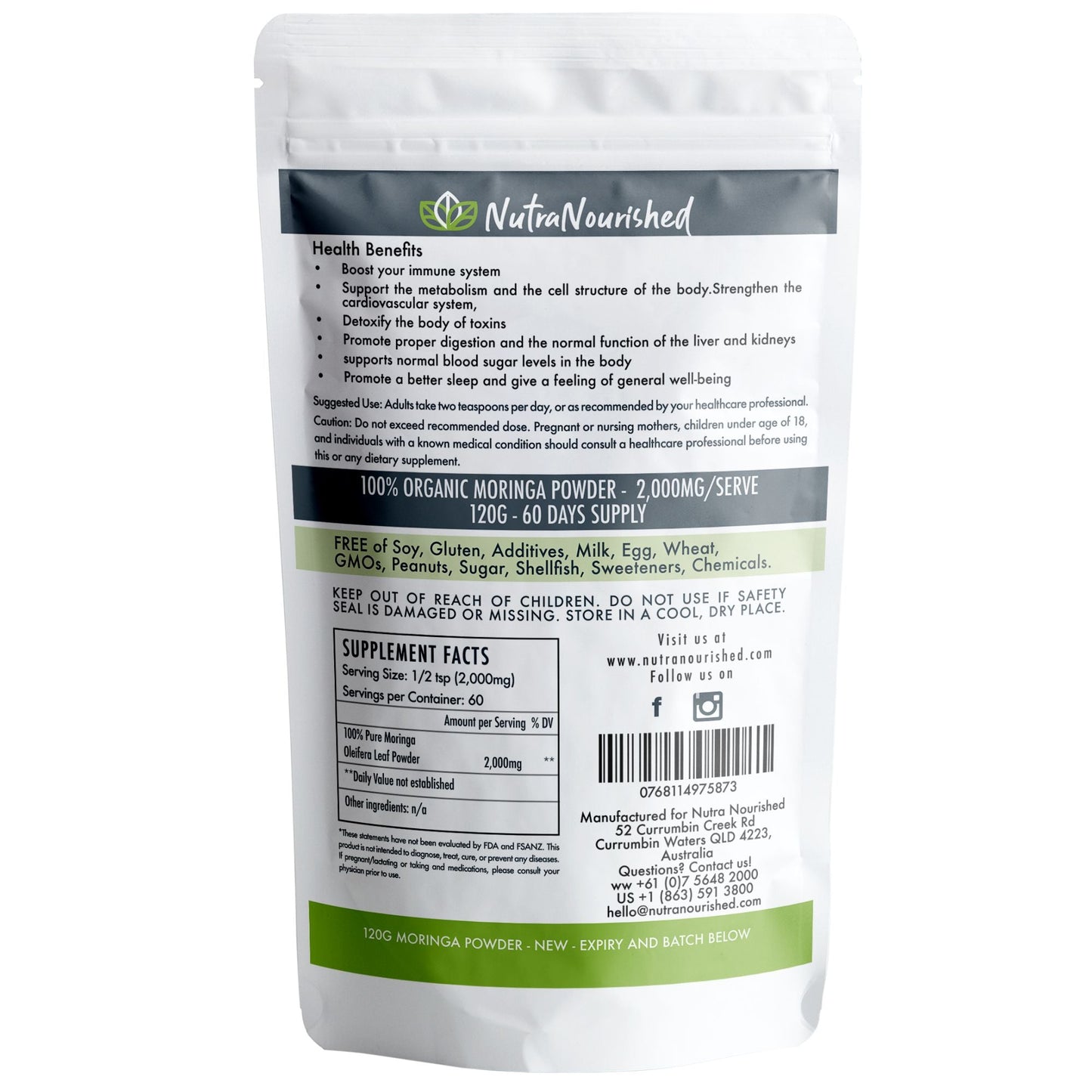 3 Simple Steps
Find the right supplement for You!
DEFINE YOUR GOALS

What benefits are you aiming for and in what areas do you want to improve your health!

SELECT YOUR SUPPLEMENT

Select the supplement that best suits your expectations and is most supportive to achieving your goals and benefits.

BE CONSISTENT

Live the healthy life you deserve - being active and taking your supplements will make a difference!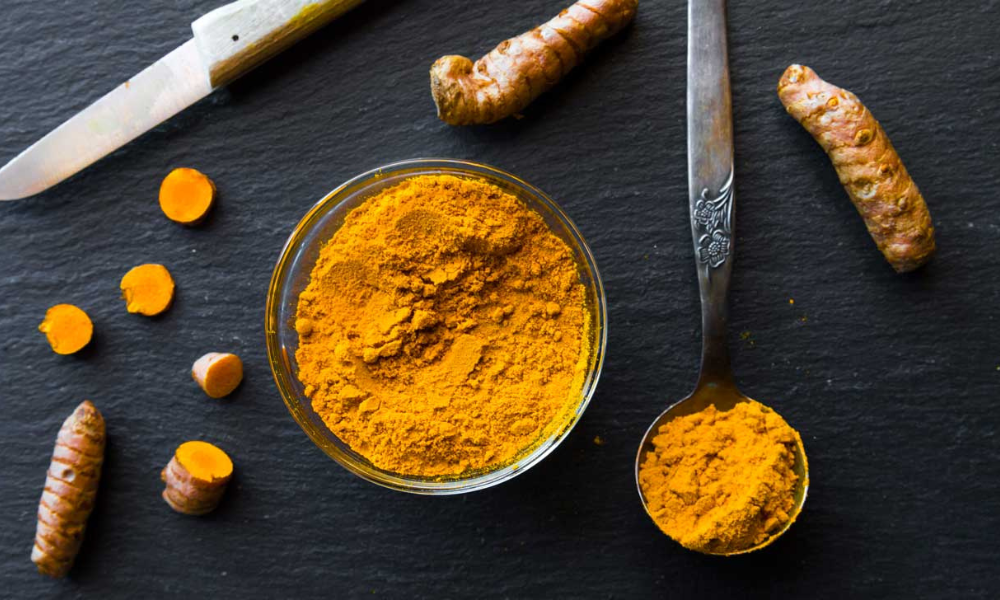 RESPONSIBLY SOURCED
With ethical and climate consciousness being at an all-time high, Nutra Nourished stand for ethical practises and sustainable choices, across the entire production process.
We recognise the challenges associated with providing premium supplement ingredients in a responsible manner. We take pride in working closely with our suppliers to ensure our ingredients are sourced and processed in the most socially responsible way possible, to maintain all the healthy benefits of each ingredient.
Get Mine Now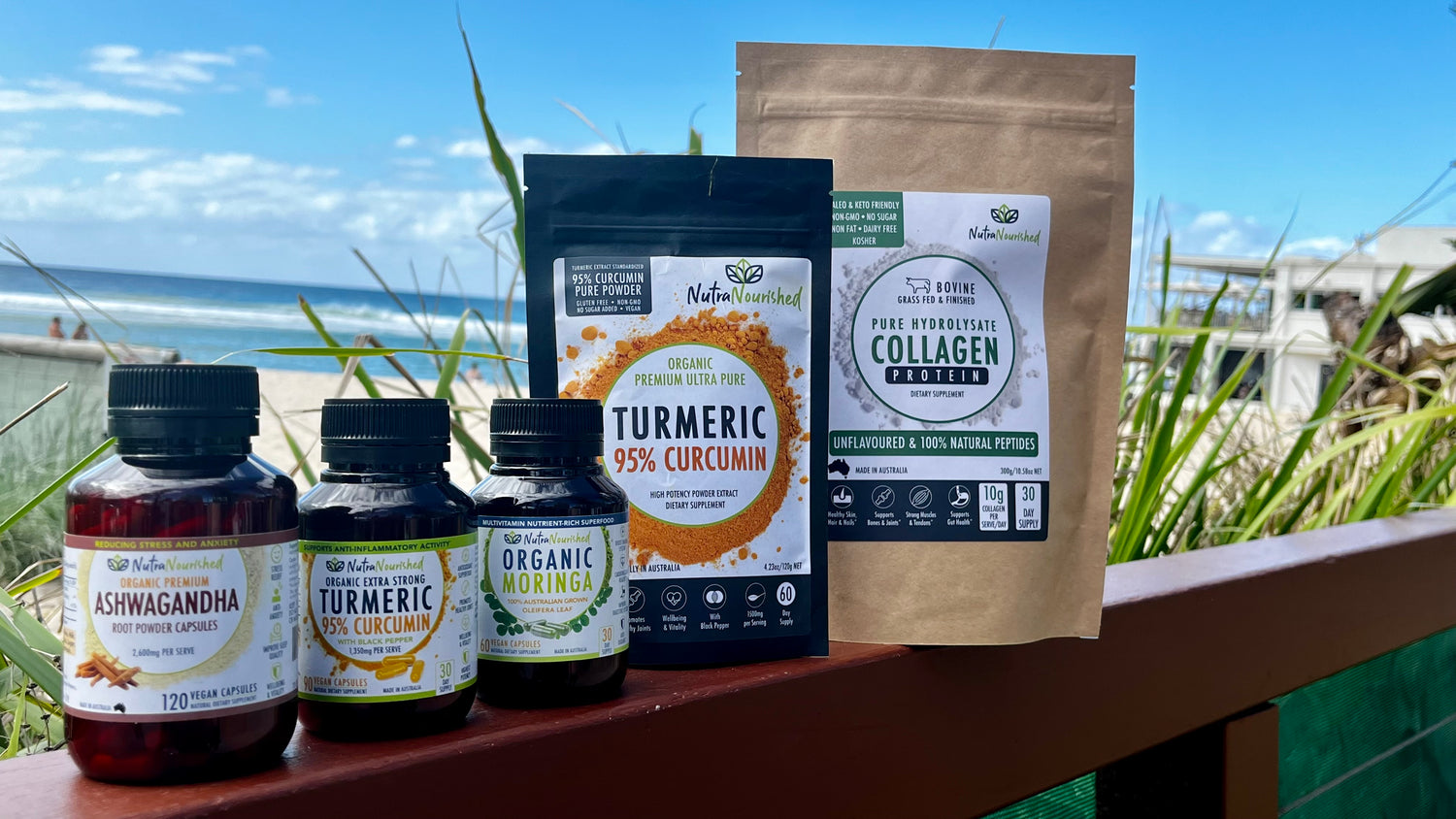 FOCUS ON CUSTOMERS AND SUPPLIERS
Offering customers a high-end premium choice of dietary supplements made in Australia with integrity, is, and always will be a priority.
At Nutra Nourished we take pride in maintaining authentic and loyal relationships with customers, suppliers, and partners, and recognise the challenges associated with providing premium dietary supplements in a responsible manner.
We work closely with our suppliers to ensure all ingredients are sourced and produced in the most ethical way possible.
Get Mine Now
LIVE THE HEALTY LIFE YOU DESERVE
At Nutra Nourished we believe that the right supplements can help you living the healthy life you deserve! This is a daily process, and itvolves more than good supplements but an overall healthy lifestyle.
We do what we can do to provide and support you on your health journey providing you the best quality of premium dietary supplements made in Australia.
Our supplements are made to support you day by day and provide you healthy relevant nutritions, vitamins, and minerals - for you to feel better, stronger, and empowered.
Our supplements are perfect for those looking for premium quality, fair sourcing and certified manufacturing.
Get Mine Now
FIND OUT WHY 5,000+ HAPPY CUSTOMERS RECOMMEND US